OA Blog/Destination Dining
Las Vegas Food Critic John Curtas Declares War Against the Destination Dining Community
In an online discussion about the quality of restaurants in his hometown, John Curtas, the Las Vegas food critic and restaurant reviewer for KLAS-TV, said the following about me and others like me, who regularly travel to eat at the top restaurants in the world:

"Oh come on, Steve. Don't kid a kidder. All your globe-trotting and restaurant hopping is all ego-driven and you know it. That's why you and your ilk are so consumed with lists and numbers and bagging experiences like they were big game."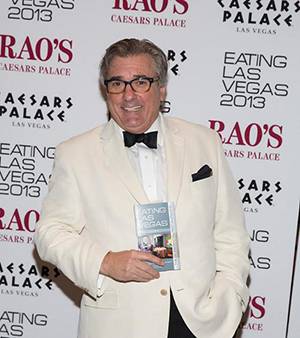 Wait it gets even worse. Later on in the discussion, when I explained how I was a member of a Facebook group called Eatinerary whose sole purpose was to facilitate its members in finding dining companions when they are travelling for either business or pleasure, John said the following:

"What you're about, and Eatinerary is about, is bragging rights, pure and simple..... Fine dining is now a sport to them, to you….. But as I said at the top, knowledge is no substitute for wisdom. And quantity (of restaurants, of customers, of flying in from Basel to eat in Chicago) has nothing to do with quality. And by the way, having to FIND people to go eat with you at good restaurants is sort of pathetic, ab initio. One thing I've never had to do was fish for people to go out to eat with me. That says something about the crowd you're hanging with right there"

It was weird because I have never met John Curtas in my life, nor did he know anything about me or the other people in the Eatinerary forum (some of whom are among the most accomplished diners in the world) prior to our interaction. Yet somehow, someway, maybe through the process of mental telepathy, John Curtas understood what motivates me, and "others of my ilk" to want to sample the best dining experiences the world has to offer (I note that I write this from my hotel room in Helsinki where according to John Curtas, I have flown in for the evening for the sole purpose of being able to "bag" another restaurant.)

The truth of the matter is that Mr. Curtas's antipathy towards the members of the destination dining community derives from the fact that most of the people in the community believe that the restaurants in Las Vegas are merely a replication of better restaurants operating elsewhere. As a result, the dining experiences in the city are often corporate and sterile. On the other hand, Mr. Curtas believes that;

"Guy Savoy and Joel Robuchon are as good here as they are in Paris. (A blowhard like Plotnicki would do well to eat at each, within a month of each other, on both continents, as I have done. Colman Andrews of SAVEUR fame - a guy I'll put up against a dude with more money than taste -- went so far as to declare LV's Savoy better in many departments.)Twist isn't far behind, and Kabuto (the 2013 version) put out edomaezushi as good as any in L.A. Ditto Raku on a good night, and a dozen of our steakhouses which are world class (if you think of Steakhouses as that sort of thing)."

Dispute aside, one wonders if Mr. Curtas realizes that Joel Robuchon does not operate a fine dining establishment in Paris? And I guess he also feels that who needs to have Guy Savoy supervise your meal when you can have some guy who earns $100,000 a year stand at the pass and do it on his behalf. And don't get me started on he quality of the sushi in Vegas compared to the quality at the places like Urasawa and others in L.A..

As the discussion ensued, I found out that no claim about the restaurants in Vegas is too heavy a lift for John Curtas. If John says that "Sage and other Vegas restaurants are as good as any other restaurant in the country," then it must be true. And the fact that the business plans that most of these restaurants utilize generally includes having an absentee chef who has licensed his name to the hotel, are set up to serve 2-3 times as many covers as restaurants in other cities, factors in the trouble they have sourcing top quality ingredients, and are mostly run by hotel employees who bring a different level of pride and commitment to the experience than principals do – well it appears that John can't taste any of that in the food. Unfortunately, the people John is criticizing can taste the difference, hence his desperate need to denigrate them.

After his tirade online, John started posting pictures of dishes at various Vegas restaurants on his Instagram account, where he referred to me on at least three occasions by the name of "Steve Pygmie Plotnicki." We are talking about a grown man here, one who appears on TV on a regular basis. It does make you wonder what newspaper editor or TV producer in their right mind would employ someone who insults the very customers that the city they are covering is trying to attract?

John is what my friends and I refer to as "homer." Someone who shamelessly shills for the restaurants in the city they live in for no other reason than that is where they happen to live. And the most important thing to know about homers is the following: Anyone who agrees with them is a knowledgeable diner who goes out to eat because they love food. But anyone who disagrees is either biased, or an egomaniac who doesn't really care about food, and who collects restaurants for bragging rights.

A friend of mine who lives in Scottsdale saw John's Instagram posts and texted me about them, implying that John didn't pay for his meals by saying, "I bet you that you have paid for a hell of a lot more meals than he has." I do not know whether that is true or not, but if I had access to John's American Express bill, it might very well be the case that John is more suited to be described as a member of the world's oldest profession than a food critic.

Of course, none of this is to say that you can't find a good meal in Vegas if you pick and choose well. The fabulous reserve steak at Carnevino and dinner at é by josé andrés are among the good experiences that can be found there. And if French contemporary dining is your sort of thing (I personally don't enjoy eating in that style,) then I am sure places like Guy Savoy perform at a high enough level to keep you satisfied. And if you are willing to go off of the strip, the ethnic dining is terrific. But in general, the big name restaurants are not set up to compete with the very best places in the world, and most of them are watered down versions of places that are much better in the city they were created in.

And why shouldn't that be the case? In a town that caters to tourists who have opted to see poor facsimiles of some of the world's greatest sites instead of the real thing, it's restaurants follow suit. Looking at it from that perspective, I would surmise that the reason that John is so quick to smear a group of people he knows nothing about, and who contain some of the most passionate and experienced diners in the world, is that he is afraid he is going to be exposed as nothing more than a facsimile of a restaurant reviewer.

06/17/2015 | Comments (12)

---
©2008-2010 SJP MEDIA, LLC • ALL RIGHTS RESERVED.
OPINIONATED ABOUT® IS A REGISTERED TRADEMARK OF SJP MEDIA, L.L.C.