TORRISI ITALIAN SPECIALTIES
RESTAURANT ADDRESS
250 Mulberry St.
New York, NY
212-965-0955
RESTAURANT STAFF
Chef/Owners:
Rich Torrisi, Mario Carbone
Chef de Cuisine:
Pastry Chef:
Sommelier:
GM:
OAD HISTORY
First appearance in Top 100.

RESTAURANT REVIEW
Here's an idea for you. Take an old storefront on a gentrified block of Little Italy and open an old-school Italian restaurant. But instead of serving the same commercial slop that most restaurants in the neighborhood, bring the type of polish and finesse you can find at the city's top restaurants to a style of cooking that is reminiscent of your Nona. That's what Rich Torrisi and Mario Carbone did, creating a bit of a sensation in the process. If you are fortunate enough to snag a table, you can expect a menu filled with dishes like a salad of kale sourdough salad with pickled shallot shoots and Pecorino, linguine with Littleneck clams and Tabasco and striped bass with cauliflower giardiniera and almonds.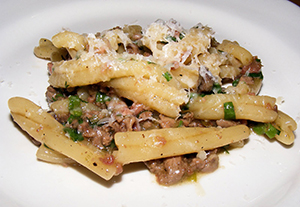 Fusilli with dirty duck ragu
Photo Courtesy of: Food Doc